Tree Planting Guide - How to lay out Animal Crossing: New Horizons Island Trees?
Sep-01-2022
Green trees can add sparkle to the layout and design of New Horizons islands. So how to lay out the location of ACNH island trees?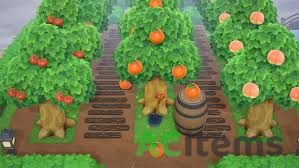 The role of trees in Animal Crossing New Horizons
When you first move to Animal Crossing's deserted island, you'll notice many natural objects scattered throughout the land, including rocks, flowers, and most importantly, trees. Whether in-game or in reality, trees are the most important to nature. There are many different tree types on Animal Crossing New Horizons, and it's up to you to decide which tree to plant. In the process of island upgrade, trees can also help the island upgrade extra points. Planting trees wisely can also help you earn money, craft items, decorate your town, and more. Using the shovel can also move the position of already planted trees. If you go to a random island with a Nook Miles ticket, you can also transplant trees from the local island to your own. Note that buying Nook Miles is not the same as buying Nook Miles Tickets. Nook Miles cannot be obtained through purchase. The trees on the town islands change with time throughout the year. Don't worry, this is normal.
Animal Crossing New Horizons fruit trees - with and without fruit
Fruit trees in Animal Crossing New Horizons are divided into fruit trees and fruitless trees. Trees that can bear fruit are called fruit trees (except money trees). Fruit trees are not rare, and you can get them from a variety of sources. Among them, using the Nook Miles Ticket and going on a mystery tour is the most common way. With Animal Crossing NMT is also the best way to get other varieties of fruit than native fruit. Fruit trees bear fruit to replenish stamina. Eating a fruit gives the player temporary power to shovel a fully grown tree or break rocks. There is a counter at the top left of the Switch screen that shows how much fruit the player has eaten. Players can eat up to 10 fruits. All fruit Trees in Animal Crossing include Apples, Cherry Animal Crossing, Coconuts, Peaches, Pears, and Oranges. Among them, ACNH Cherry and Animal Crossing Apple Tree are my favorites.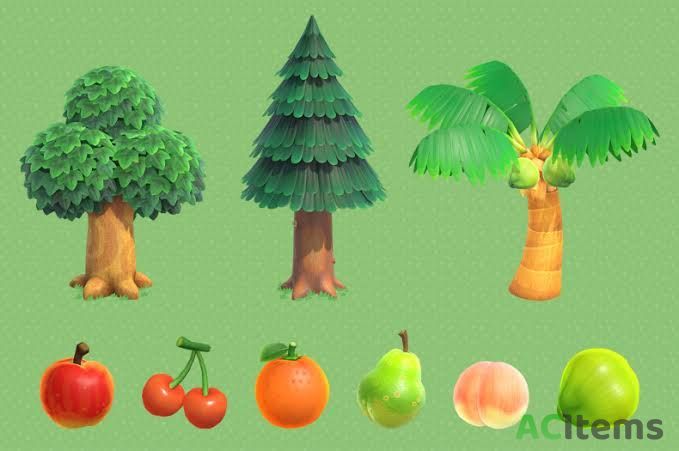 Several ways to obtain ACNH Fruit Trees
1. Go to a friend's island to dig saplings.
2. Use ACNH Bells to buy seedlings at Nook's Cranny.
3. Obtain by trading with friends.
4. Purchase from ACitems.com.
5. Access the Mystery Tour with a Nook Miles ticket.
The native fruit trees on New Horizons islands are random. You need to distinguish whether your island already has the same type of fruit trees. After getting the fruit tree seedlings, the process of planting the seedlings is very simple. First, find a suitable location on the island, take out the shovel from the backpack, dig a hole, select the fruit tree seedlings from the backpack, and finally press A to confirm the planting. Simply shaking a ripe fruit tree will drop 3 fruits. Can be eaten directly.
Harvest of Planting New Horizons Trees
Since each island has only one fruit, growing multiple fruits on your island can be very profitable as they can be continuously harvested for money or trade:
Local fruit sells for 100 Bells each
Non-local fruit 500 ACNH Bells each
250 AC Bells per coconut
Coconuts are the most readily available fruit other than native fruits, and the non-native Cherry ACNH, Pear Animal Crossing sells for a relatively high price. Therefore the price of coconut is lower. You can find them any time you visit Mystery Tour with your Nook Miles ticket.
Plant-Animal Crossing Fruit Trees to reap rewards
In addition to their practical use, most of the harvested fruit will be sold to Timmy and Tommy at Nook's Cranny. Exchange fruit for Animal Crossing Items to re-shop at Nook's Cranny, ABLE Sister, and Nook Shopping. Your account balance will be displayed in the upper right corner of Switch. Fruit sales are only available at Nook's Cranny. If you don't want to sell the whole fruit, you can also use a shovel to bury any kind of fruit for five days. This process enables the replanting of fruit trees. The shovels, fruit seedlings, cheap ACNH Bells, and useful ACNH Items you need to grow and sell fruit trees are all available at ACItems.com for 10% OFF. Have fun!