Animal Crossing: New Horizons Pearl Farm Guide - ACNH Pearls Get Methods & Use For
Nov-29-2022
In Animal Crossing New Horizons, pearls are not only one of the most beautiful ACNH Items but also a rare material in the game. Pearls can be used to craft mermaid set furniture items, and if you want to craft deep-sea furniture, you'll need to find a lot of pearls. In this guide, we'll show you how to get pearls.

How To Get Pearls In Animal Crossing New Horizons
To get pearls in Animal Crossing New Horizons, we first need to get a wetsuit. We can buy a horizontal striped wetsuit for 3000 Bells or get a leaf print wetsuit from the Nooks Shopping App for 3000 Bells, or we can redeem 800 Nook Miles at Nook Stop to buy a Nook Inc wetsuit. After we get the wet suit, there are two ways to farm rare pearls.
1. Diving into the sea to find pearls - When we swim in the sea and see bubbles rise to the surface, it means there is a sea creature. At this point, we need to swim to its vicinity and dive into the water, and then we will see a black shadow-like structure. Next, we have to get on top of that back shadow, and the in-game character will pick it up automatically. If you are very lucky, you might find a pearl.
Usually, we don't get pearls on the first dive, it takes many dives to find them. For starters, the pearl's shadow is relatively small and never moves. But the best way to spot pearls is to keep an eye on the bubble behavior of sea creatures!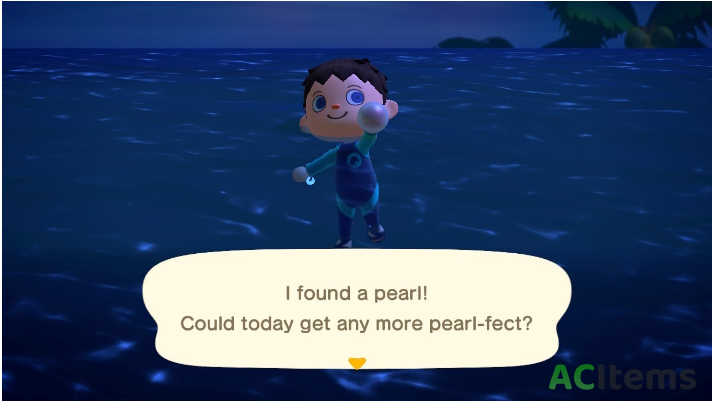 2. Trade scallops with Pascal for pearls - We have a much better chance of finding scallops than pearls by diving into the water. So we can trade scallops for pearls. Once we got the scallops in the sea, Pascal would appear behind us, but he only appeared once a day. When trading with Pascal, we mostly get mermaid DIY recipes or mermaid clothes, sometimes a pearl, the chances of us getting pearls are unknown.
We can use the time travel feature to make multiple transactions, and repeatedly finding Pascal every day and hoping for a pearl for him is probably the fastest way to get pearls. It will be relatively slow due to random chance, but probably more reliable than diving.

What Are Pearls Used For In Animal Crossing New Horizons?
In ACNH, pearls can be used to craft mermaid recipes, and you usually need one for every recipe, so make sure to collect as many of them as possible. If you want to craft every furniture item in the mermaid set, you'll need to collect at least 21 pearls.
If you don't care about making the mermaid furniture at all, you also have the option of selling them to Timmy & Tommy. Pearls at Nook's Cranny cost 10,000 Animal Crossing Bells each. Or you might have better luck selling them to your friends or other online players for a higher price!
If you don't want to sell them either, then you can always use them to decorate your island.