6 Types of Fruit Trees | Grow Guide - Animal Crossing New Horizons (Switch)
Jul-25-2022
Animal Crossing: New Horizons' native fruit trees all start with fruit tree seedlings. How to plant fruit trees?
Animal Crossing New Horizons Fruit Trees
New Horizons Fruit List: Apple, Cherry, Coconut, Orange, Pear, Peach. Fruit trees not only harvest fruit, and get materials, but also make the island look better. More helpful to upgrade the island to five stars. Trees in Animal Crossing New Horizons are divided into fruit trees and fruitless trees. By shaking the animal New Horizons fruit tree can drop fruit, and the dropped fruit can be used. Fruit is a common item in the Animal Crossing Items list, and many players like to plant fruit trees on the island. Use cheap animal crossing bells to buy flowers of different colors at the island shop. An island with flowers and fruit trees at the same time would be more beautiful. There are six species of fruit trees in New Horizons, but only one is native to the island. You can get all the fruits through travel and work. After the ACNH 2.0 update, to save the backpack capacity, ten pieces of the same fruit can be stacked.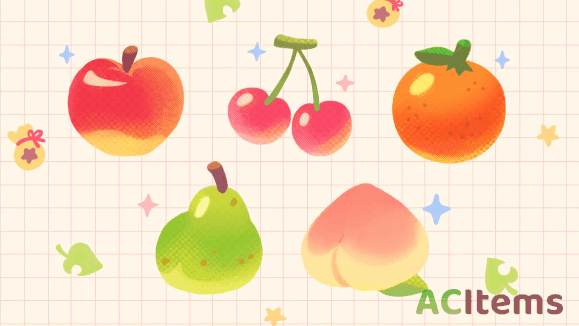 How to quickly collect all types of fruit
1. Access Mystery Tour with Nook Miles Tickets. Arriving at Mystery Tour, you have a chance to get any item you want. The Nook Miles feature is unlocked by proactively repaying 5,000 Miles of the loan to the Nook. Nook Miles Tickets can then be redeemed from the Nook Stop at the Resident Services Centre. ACNH Nook Mile Tickets allow you to temporarily travel to another randomly generated island. Mystery Tour generally contains different fruits, materials, ACNH DIY recipes, and even bells. ACNH DIY recipes allow players to make different items, especially the Milk Glass Lamp is very beautiful. Mystery Tour is also a great option for getting rare DIY recipes. Buy ACNH DIY Recipes is the choice of most players. So using Nook Miles Tickets to access Mystery Tour makes perfect sense.
2. Trade with friends
Negotiate with friends in advance to get permission to land on the island. After entering the friend's island, press the map to find the location of the fruit tree and take away the fruit you want to collect. In the process of trading with friends, you can also view All Critters, and select the appropriate Critters as gifts to exchange with friends. Either store in New Horizons can be dressed up as a gift, and checking the item list and buying animal crossing items is legal.
3. Buy from ACitems.com
ACitems.com is a professional ACNH Shop. Enter the website, enter the name of the fruit or the name of the fruit tree to search, and you will see the item. One fruit tree costs only $0.32, and Apple(10) only costs $0.07. Select the name of the item you want, fill in the quantity, and add it to the shopping cart to pay. Besides, Animal Crossing Bells For Sale, ACNH Items For Sale, and AC DIY Recipes For Sale are also available here.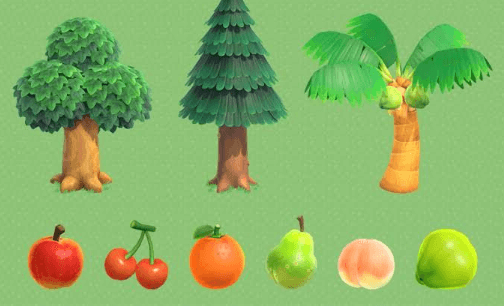 Eating fruit can boost stamina
In New Horizons, eating fruit will give the player a boost of energy. A counter will appear at the top left of the Switch screen, showing how much fruit the player has eaten. Players can eat up to 10 fruits, and there are no restrictions on fruit types. The player's exploration activities on the island will consume the player's stamina. This number decreases by one each time a player digs a tree or breaks a stone. Once the counter reaches 0, it means the player is tired and can't continue exploring the island until the player eats another fruit. If you get a dialog: "You're too full! You couldn't possibly eat anything else." it means you're full.
Grow and sell fruit in Animal Crossing New Horizons
Before planting fruit, you need to get the tool shovel. If your shovel is scrapped, buy ACNH items that will allow you to get the shovel in a short time. After getting the shovel, find an open space on the island, hold down the shovel and press A to dig a hole, bury the fruit you want to plant, select "plant it", and then the hole where you bury the fruit will be covered by the shovel. If you don't plant these trees correctly, they won't grow. to ensure their normal growth. Leave two enough space between the two fruit trees. The last thing to do is wait, a process that takes about five days to complete.
When you first start on your island, you'll notice there is a single fruit type growing. It's randomly chosen from five options. Native fruit sells for 100 Bells each. Non-native fruit sells for 500 Bells each. Island ACNH Shop sells daily Offering ACNH Items For Sale, Cheap Animal Crossing Items, visit the store every day and you'll find something new. In addition to obtaining Animal Crossing items through island quests, items obtained directly by buying animal crossing items can also decorate the island.